Hello Friends,
I am delighted to share with you the latest on what is happening across the project. We are running a series of Country Awareness Meetings, hosted by our Country Champions. We have recently had meetings in Morocco and Sierra Leone, and there is more to come (see below). Our Technical and Practitioner Advisory Groups have also been busy providing input to the development of the Exposure Draft Guidance, with the first tranche due for release towards the end of this year.
One common thread that stands out is the enthusiasm to support the IFR4NPO Project in achieving its objectives. We are appreciative of the insightful and helpful comments and questions.
We held a webinar on 5 May to explain the model for developing the Guidance and the rationale. In the IFR4NPO Project Consultation Paper, we proposed a model for developing the Guidance, using International Financial Reporting Standard for Small and Medium Entities (IFRS for SME) as a start point. The feedback we received suggested a measurable level of concern and confusion about the proposals, so we wanted to provide a space for further comments and questions. We were grateful for a range of valuable and detailed contributions as well as positive feedback, for example, "Thanks for a fantastic webinar. Very informative. Really appreciate it".
As we continue to engage stakeholders around the world, we will ensure that you are kept informed and have the opportunity to take part in discussions. Keep an eye on the website and LinkedIn for forthcoming events and our blogs and articles.
On 2 February 2022, we presented the outcome of our 2021 Consultation Process. This webinar is now available on our YouTube channel as a video series in 4 languages: English | Spanish | French | and Arabic.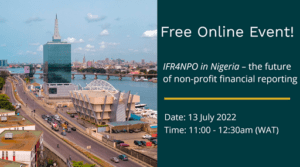 We host free online events in various time zones, to create awareness about the IFR4NPO Project and explain the role our stakeholders in different countries can play in achieving harmonised reporting for the sector. Most webinars are available in French, Spanish and Arabic. As well as registering for future events, you can access the recordings and resources from past events.
Upcoming 
Focus Group on Reporting entity & consolidation – 23 June 2023
IFR4NPO in Nigeria – the Future of non-profit financial reporting -13 July 2022
Focus Group on Narrative Reporting – 20 July 2022
IFR4NPO in Rwanda – the future of non-profit financial reporting – 24 August 2022
Past
IFR4NPO In Sierra Leone – the Future of non-profit financial reporting- 25 May 2022
IFRS for SME as a start point – the rationale – 05 May 2022
Focus Group on Narrative reporting – 07 April 2022.
Morocco Event -Façonner l'avenir de l'information financière à but non lucratif Parties prenantes du Maroc – 16 March 2022